My Story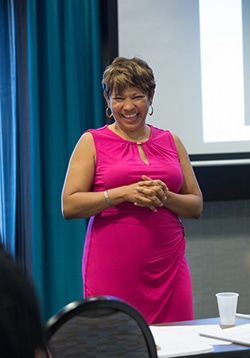 Long before I was a success coach, I was a physical therapist.
And I was excellent at it.
In 2007, I was at the pinnacle of my physical therapy career. I had worked my way up through the system to the position of Director of Rehab.
Within 6 months of my taking the position, we were the #1 clinic on the East Coast for that corporation. I got the big bonus. I received the accolades.
And then I started having panic attacks.
I was also working 60 hours a week…
My marriage was in trouble…
My youngest son was acting out…
Luckily, I was already self-aware enough to sit down with myself to get to the bottom of it. What was really going on?
I recognized that this was not the first time I had been here. I had burned out in my previous business in Jamaica, too.
I realized that I was way out of balance.
I was climbing the wrong tree, chasing the world's version of success.
I had lost sight of what was most important to me. And I wasn't taking care of me.
So I stepped down from that position to work part time so I could give myself some space. Of course, people in my life didn't understand it. (My VP called me to say, "What is this? A mid-life crisis?")
I just knew that I needed to get back in touch with myself to figure out what was true for me.
Fast-forward 6 months…
I was contacted about a life coaching position that someone had recommended me for.
Now, I had an idea of what life coaching was, but I had never done it.
I had never so much as thought of myself as a life coach.
I didn't even know who had recommended me, or why.
And yet…
There was something about the offer that resonated with me.
I remember looking up and thinking, "Okay, God. Is this what I'm going to be doing next?" (You see, my whole life has been one led by Spirit. I am unapologetically Spiritual and non-religious.)
I had a sensation of joy and a lightness of being in my heart told me that this was my next step.
So I became a certified life coach and embarked on a new journey that expanded the way I was able to impact people's lives. I had known for a long time that it was important to work with the whole person because everything is connected.
In physical therapy, I had been somewhat limited. As a life coach, I was able to address the whole person.
I found myself helping my clients to overcome their inner obstacles – like self-doubt, procrastination, and lack of focus – so they could stand in their power, make more money, and have greater balance, with joy and ease.
(That seems to be my superpower.)
When you learn to overcome your inner obstacles, you become unstoppable.
And the only difference between success and failure is whether or not you stop.
If something does stop me, I automatically look for a way around it, a solution, a way to move forward and accomplish what I want.
As a result, I have done things that most people could not imagine themselves doing…
Like closing a successful business in Jamaica and sending my kids to live with their dad when I decided to move halfway across the world in pursuit of love.
Like selling my car to pay for a study/travel program in China and not knowing what I would drive or how I would buy a new car when I came back 3 weeks later.
Like being willing re-create my life by starting over again in America at 42 years old.
Like investing $10,000 to spend a day with a mentor to expand my wealth consciousness.
Like leaving the stability of an established career – and stepping boldly and fully into my coaching business because I knew this is what I was supposed to being doing now.
All these things have certain similarities. And it's not just that I'm plain crazy!
They are the direct results of my own personal development – the shifts that I made, the mindset that I developed, and the commitment that I have to living on purpose – which allowed me to become unstoppable in my pursuit of joyful success.
That's what I help my clients do in their own lives.
Because sometimes, we need help.
To make sense of the pain.
To identify our limiting beliefs.
To discover how we allow those beliefs to control our lives.
To be shown what's in our blind spot.
To see things from a different perspective.
To make a shift.
If you'd like to learn more about how I can help you, take a look at my private coaching programs, VIP Days, and group coaching opportunities.
Because I'd love to help you achieve joyful success in your own business and life.